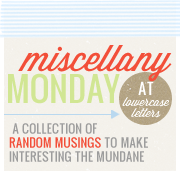 I mentioned wanting to go online and look for a St. Patrick's Day hand print art idea to Noah and he came up with the idea below all on his own! Such a smart little boy I have!
Amazingly, I even hung them up right away which is a major feat these days! I'm still loving my scrapbook frames that I change out each season. They typically just have a piece of blank, seasonal paper in them because that requires no effort but I love when I actually get a chance to put something meaningful in them!
I had an idea (all on my own...I usually copy other people's ideas!) for a Valentine's Day foot print art canvas. I stared at this piece of paper for weeks.
We painted our footprints (Noelle's feet: top, right corner; Noah's feet: center; my feet: lower right corner...yes, I am well aware that Noah's feet and mine are almost the same size...he only has 12 more inches until he's my height) weeks ago and then the canvas sat in my office. I finally got around to outlining the "hearts" and tacking on the Bible verse this past weekend. Now I just have to seal it and it'll be ready for hanging. I love how it's turning out!
I really need to print out this picture. It makes me smile every time I look at it!
It's been a long time since I've linked up with Carissa! I'm happy to be back :)