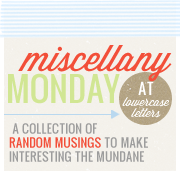 1 - I have rekindled my love of

water with

lemon slices

. I don't know why I always forget how much I like the taste. I am really not a big fan of water in general...much prefer a cherry coke or something else laden with calories...but when I throw in a few slices of lemon (which have to be round slices...not the chunky ones!) it tastes so much better.
2 - I must be a little dehydrated because all I'm thinking about is beverages at the moment. I am counting down the hours until I can fulfill my
Starbucks hot chocolate
craving. Tuesday mornings mean a trip to the Starbucks drive thru for my twice-a-week indulgence! My sweet mama gave me a gift card for this guilty pleasure for Mother's Day so I don't have to feel so guilty for indulging for a few weeks, haha!
3 - So, the excavators came last Wednesday to rip up the sod in our backyard and it is now almost a week later and the 'big dig' hasn't started. Please, please, please get this
pool
finished before Noelle's birthday! I am starting to think about her 2nd birthday party and I have my heart set on a pool party. Considering we sort of skipped her 1st birthday party, I'd really like the 2nd one to be memorable.
4 - My
desk
is all put together! Yay for me! Hubby helped a bit but my impatience got the best of me and I chose the desk over sleep this weekend. The people who reviewed this desk weren't kidding when they said it took 7 hours to put together. I figured they were exaggerating. Note to self, next time pay attention to the dozen or so reviewers since there is a slim chance that they are all exaggerating. Better yet, buy large pieces of furniture with hundreds of pieces of hardware already assembled ;)
5 - To
blog or work
? That is the million dollar question tonight. It's a holiday so it should be an easy answer but the work piled up is giving me agita. Off to work I go...